Stardew Valley is a fun game with an addictive gameplay loop and offers hours of enjoyment and excitement to its players. The farming game was developed solely by the game designer Eric Barone. So if you love farming simulations or like simulating RPGs, then there are numerous choices available for you. We have covered the top 5 of the best games like stardew valley for you.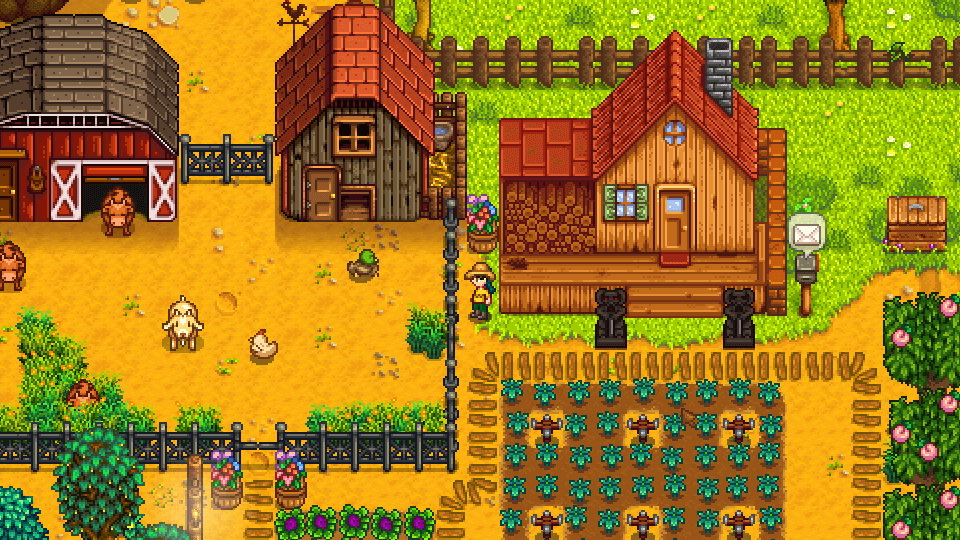 1. Moonlighter 
Available on: PS4, Xbox One, PC (Nintendo Switch release coming later)
Moonlighter is not a farming game like Stardew Valley but reminds of it anyway, and you can enjoy it if you are a fan of Roguelites. In this fun game, you play an adventurous shopkeeper who looks after the shop during the daytime, and at night you can give in to the fantasy of becoming a hero by fighting with your enemies. So you carry on both the objectives efficiently and take actions mutually beneficial for both the situations.
In the daytime, your character runs a shop, manages employees and prices and upgrades the store wherever necessary. There are villagers to interact with and as customers; you need to cater to their specific demands. You can craft equipment and armour. While at night, you visit different worlds with dungeons, collect valuable items and most importantly fight with enemies and bosses.
Also Read: NBA 2K17 APK Free Latest Version Download for Android
2. Yonder: The Cloudcatcher Chronicles
Available on: PS4, PC, Nintendo Switch
It is also one of such games similar to Stardew Valley since there is not much story but only some quests to be done. However, if you want more adventure, then go for Yonder: The Cloudcatcher Chronicles. Some describe the game as Zelda meeting Stardew Valley. There is a mystical island open-world to explore with beautiful visuals and peaceful music.
For most of the game, you need to find the magical sprites to help you get rid of a fierce fog called the Murk. Murk is destroying the environment and disrupting the lives of the inhabitants. There is farming, fishing, crafting, building with elaborate character customization. The main focus is on exploration and open-world here is dynamic and keeps on changing according to the different seasons. A lack of combat though unusual makes for a calm and enjoyable atmosphere.
3. My Time At Portia
Available on: PC
My Time at Portia is also a game like Stardew Valley, offering players a delightful and immersive world called Portia, where your task is to build your father's workshop. You'll have to fulfill commissions, grow crops and raise animals.
Also Read: FastPokeMap Download for Android [Steps by Steps]
You can make friends with the residents of the land of Portia to help you in your quest of building things for your workshop and the whole town. You also get the option to level up your character in the game and skill them up in crafting, combat or social skills. The game features 3D with cartoony graphics.
4. Story of Seasons: Trio of Towns
Available on: Nintendo 3DS
Stardew Valley is believed to be inspired by the Harvest Moon games and the Story of Seasons series is considered as its spiritual continuation and a more refined version of the older title, i.e. the Harvest Moon games.
Here in Trio of Towns, you start as a young and inexperienced farmer whose task is to cultivate their plot of land successfully. The pace of the game is much better than Stardew Valley, so fans much love it. Also, the new towns, people, and further gameplay mechanics don't let the boredom creep in. Here even you can marry characters and spend hours farming just like in games similar to Stardew Valley.
5. Recettear: An Item Shop's Tale
Available on: PC
If you love playing simulation games and wish to try something new and different from farming, then Recettear could be the perfect choice for you. In terms of gameplay, this game is quite similar to the farm simulators. Here you begin as a young girl who has to manage an item shop after her father's untimely death. You have to source your shop's items from dangerous places, so you explore dungeons, fight monsters and collect precious items to sell in your shop. The shop has to be revived to its former glory to pay off all the debts. Therefore, the game is a perfect mix of simulation and dungeon crawling.
Also Read: P2p4u Alternatives for Watch online free Sports in HD Quality
There are numerous other games similar to Stardew Valley like Rune Factory 4, Fantasy Life, Animal Crossing: New Leaf, Farm for your Life, Voodoo Garden, Wild Season and many more.