Recently, I have been consulting via Twitter. "What backup software do you recommend? Any suggestions for backup software?" I was stumped. "I think there is a lot of backup software, but I personally recommend AOMEI Backupper." I answered.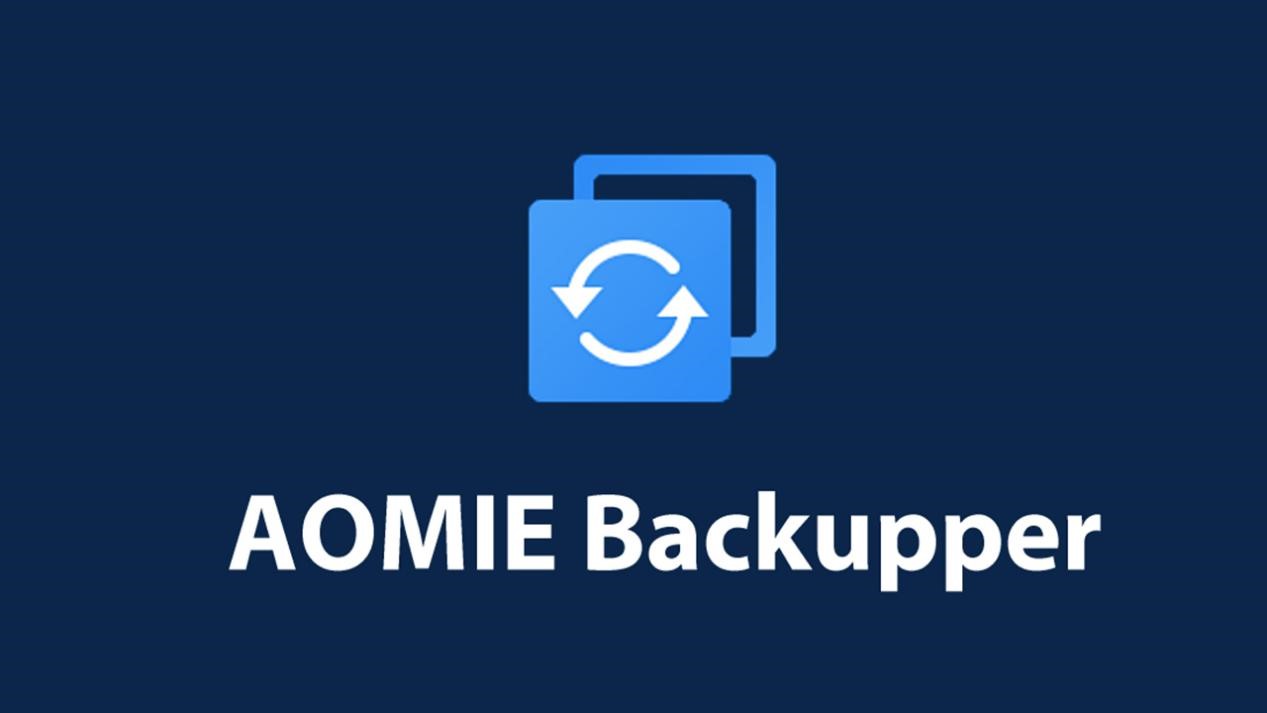 AOMEI Backupper is the most powerful backup software for Windows PC. As a free backup software, AOMEI has attracted worldwide attention. Here, I will review it and introduce four reasons why I choose AOMEI Backupper.
About AOMEI Backupper
If you use free backup software, it is usually the first recommended software. AOMEI Backupper is available in both paid and free versions. The AOMEI Backupper Standard Edition is a free version with basic functions. Please note that the free Standard Edition has limited functions, and the paid AOMEI Backupper Professional Edition can be used without restrictions. For example, the professional edition is capable of performing "differential backups".
Differential backup means saving only the parts that have changed since the file was last saved. It only saves differential files, it is faster and requires less space than a full backup. There are various other restrictions, so if you want to get the most out of the software, I recommend upgrading to the professional version. But for personal use, the free standard edition is sufficient.
Also Read: How To Solve aTube Catcher Error 204 Easy Solution?
Five Backup Features of AOMEI Backupper
System Backup: The software will automatically select the necessary partitions to start the PC and it will back up multiple partitions. It can back up the entire Windows, so it's the perfect choice if you want to revert to the original state when something went wrong with Windows.
File Backup: Back up only certain files and folders. The benefit is that backups take less time.
File Sync: Mirror specific files and folders. It syncs when you rewrite or create files.
Disk Backup: Back up your entire hard drive. You can also back up external disks and USB storage.
Partition Backup: You can back up every partition on the disk, such as C drive and D drive.
How to Do a System Backup with AOMEI Backupper?
We often encounter system crashes in our lives and work. Next, I will show you how to use AOMEI Backupper to back up the system to back up system files.
Step 1. Download AOMEI Backupper and launch it. Under the Backup option of the left menu, click "System Backup".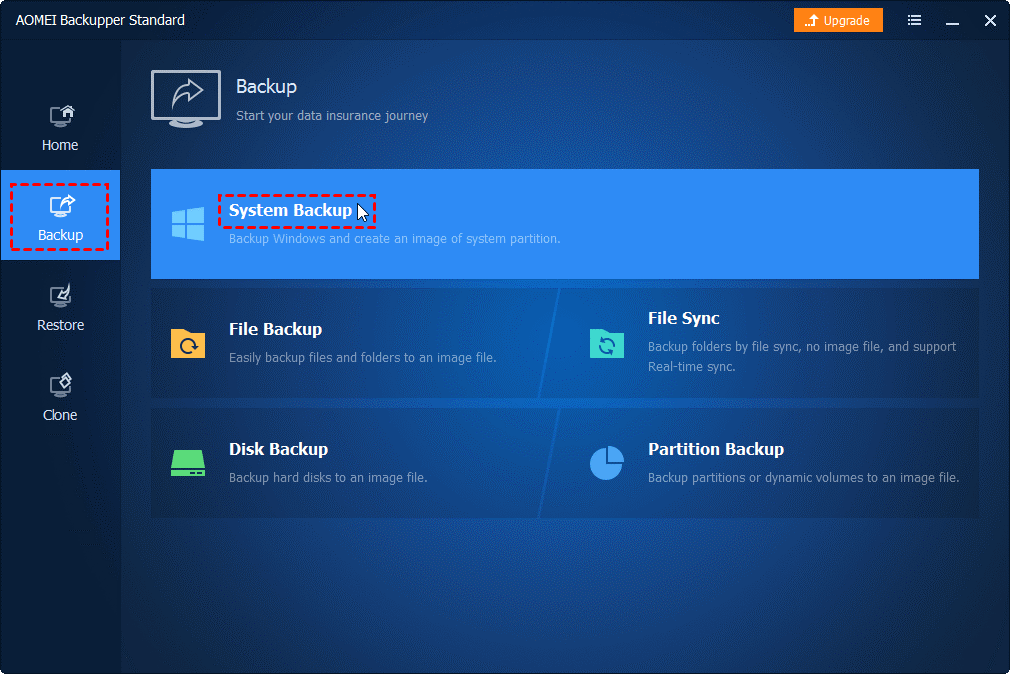 Step 2. To distinguish it from other backup tasks, you can modify the "Task Name". You will find that AOMEI Backupper has automatically selected the system drive and boot drive as the source partition. Then select the destination path (local disk, external drive, cloud drive, etc.) to save the system image file.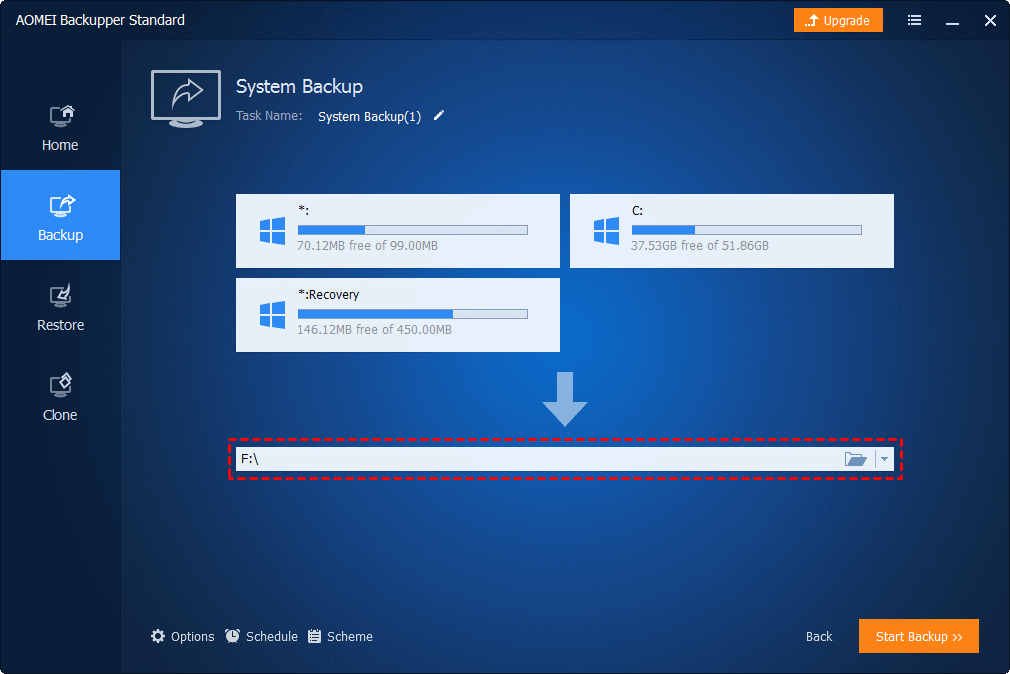 Step 3. Finally click "Start Backup" to start system backup.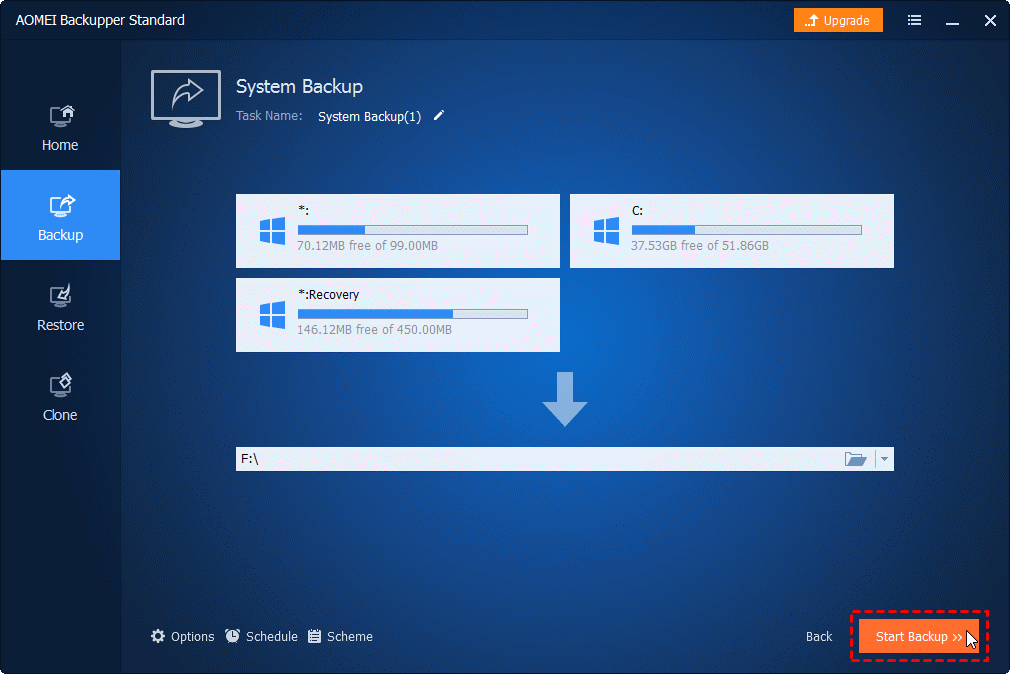 Four Charms of AOMEI Backupper
The operation of AOMEI Backupper is very simple. You can start by installing it!
AOMEI Backupper is the best backup software with the latest features of Windows 10 and also supports Windows XP. AOMEI Backupper is designed to work as easily as possible, so it is much faster than other backup software. Experience the simplicity of it from the installation stage.
Backup time is something we must consider. It takes time to complete the first full backup like any other software. However, it only takes a few minutes after that when you use only incremental/differential backups. So I don't think you have to worry every day.
Backup software AOMEI Backupper allows you to flexibly set the backup time
The next reason to recommend is the precise timing of backups. AOMEI Backupper not only has the standard features of backup software, but also has an accurate schedule, and allows you to start backup work at any time you want, such as when the PC starts up before the power is about to shut down, or when a USB memory is inserted.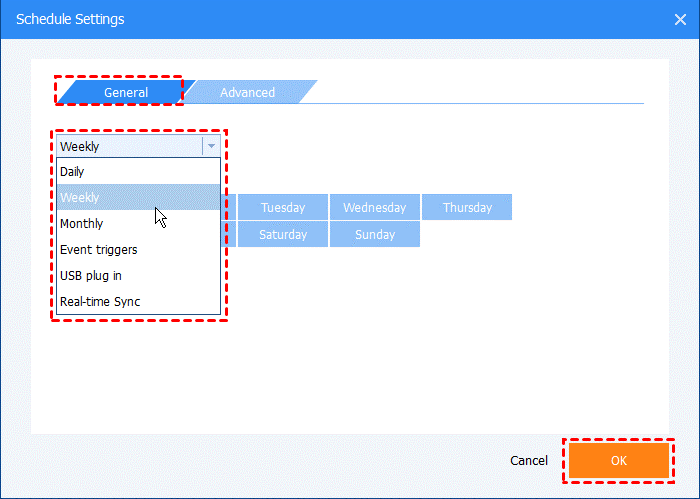 Eliminate unnecessary functions and focus on backup.
This is the main point of AOMEI Backupper as recommended backup software. By completely eliminating unnecessary functions, it focuses on backup functions. With AOMEI Backupper, even beginners can take advantage of backup functionality.
Smart sector backup function: Suppose you have a 1TB hard drive and have used 500GB and 500GB of free space. Normally, if you apply a backup to the entire disk, it will be a 1 TB backup, but with the smart sector backup feature, you can record the used 500 GB backup, which will greatly reduce backup capacity and backup time. What's more, the real value of this software is that beginners can use these features almost without knowing it.
Developers can react quickly and expect future feature development
The fourth reason to recommend AOMEI Backupper is the professionalism of AOMEI. AOMEI is a PC software manufacturer specializing in the field of backup and disk management. It is a company with a strong pursuit of technology, and it has shown great interest in improving performance.
Also Read: Advantages of Using Data Historian Software
The Bottom Line
The above is my review of AOMEI Backupper and why I recommend this software. AOMEI Backupper is a backup software that is worth downloading. It is also a professional disk cloning software that can help you clone disks without having to convert the disk partition structure in advance, because it allows you to copy MBR disks to GPT disks, and completes multiple operations for you. It is easy-to-use and keeps the data intact during the backup and clone process, saving you time and effort compared with installing the system and all applications again.
There are too many backup tools on the market, and AOMEI Backupper has earned its reputation among thousands of users worldwide. If you are still looking for a tool to regularly back up important data, if you plan to replace the hard drive, or if you want to save and restore data in batches, AOMEI Backupper is indeed your best choice. AOMEI Backupper Standard is still completely FREE and has enough features for us to use. Today I share AOMEI Backupper with you, I hope you can try it and benefit from it.